Our last travelogue was published back in October, chronicling our time in Portugal. I'm going to do my best to hit the highlights of the last three months and catch you all back up to (almost) the present day.
In mid-October we left our new friends in central Portugal and flew back to Paris. I know what you're thinking. Yes, our checked bags successfully completed the trip with us. No, we didn't trust Air France with them this time. Our time in the City of Light was short as we were there just long enough to pick up a car and make our way to the northern coast to catch a ferry from Calais to Dover, UK. You heard it right, we took a LHD (left-hand drive) car across the English Channel to a country that drives on the opposite/left/wrong side of the road. I will save the details for a future post, but the short version is a four month car lease from France saved us thousands of dollars over multiple short term car rentals in the UK and Ireland only when we needed one.
Once on British soil, we took about a week to drive across the southern part of the island which gave me ample time to get used to driving on the left side of the road. My first big test was in the Cotswolds where they take a perfectly good single lane road, line both sides with 10 foot high hedges and put two way traffic on it. I'm not sure if having a LHD car was an advantage, but it did make it easier to pull the car as far left as possible without running into a hedge and hope the driver going the opposite way had enough sense of self-preservation to not take off my passenger side mirror. I must have passed with flying colors since we made it out alive and Fara rarely screamed "We're going to die!" as we met oncoming traffic. It was also on this part of our journey that we had our first visitors from back home. Brent and Sunita met us for lunch in Oxford and we toured some of Sunita's old hangouts from her time living there. Eventually we made our way to our new temporary home on the southern Devon coast, in a little resort town called Teignmouth (pronounced "tin-muhth").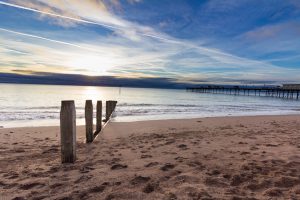 After our successful long-term stay in central Portugal, we were keen on trying another in a more populated area this time. The southern Devon coast was a part of England we hadn't visited yet and had a typically milder climate (meaning less rain) than other parts of the UK that time of year. There was no specific draw to Teignmouth other than we were able to find a month-long AirBnB in the city center within budget and free parking. It made it a bit awkward when a local would ask us "Why Teignmough?" knowing the answer "Because it was the cheapest option" wasn't what they wanted to hear. Had we chosen to visit in the warmer months, we would have seen a much different place as it is a summer destination for many families on holiday. In late October and early November it reverts back to being a sleepy retirement community where the sidewalks are rolled up most nights by 6 or 7 pm except for the few restaurants still open in the off-season. The weekends had more nightlife with live music at various pubs. We took part in two holiday celebrations while we were there. Halloween and Guy Fawkes Night ("Remember, remember, the fifth of November") were celebrated with fireworks displays that drew many locals out into the crisp fall night. Fara and I got more rest than intended due to picking up a rather persistent cold that knocked both of us out. The first two weeks in Teignmouth consisted of several days where the only reason we could find to leave the apartment was for food or pharmacy. Eventually we did get well enough to venture out into the beautiful Devonshire and Cornwall countryside. We went as far west as we could go to Land's End, followed the footsteps of the Pilgrims in Plymouth and climbed to the top of Haytor Rocks.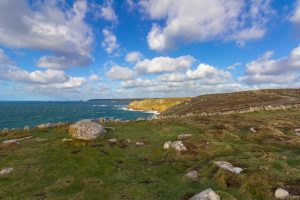 In late November more friends from back home met us in London to take in the pre-Christmas sights. Jose and Corrine joined us (or did we join them?) in a fun and food filled evening at the Hyde Park Winter Wonderland carnival and crossed the same "zebra crossing" as John, Paul, George and Ringo in front of Abbey Road Studios.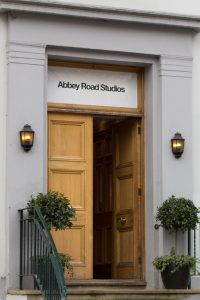 We celebrated Thanksgiving in the West End with "Basil, Sybil and Manuel" serving us dinner at the Faulty Towers Dining Experience. Note the different spelling, probably to avoid trademark infringement, but that was the only difference between the play and the TV series inspiring it. To start the night, I was the only one who had seen more than an episode or two. By the end, we were all fans. Despite Thanksgiving not being a holiday in Britain, the shopping districts were still full of stores advertising Black Friday sales. No one there really knows what Black Friday is, but who is going to pass up a chance to save a bundle on stuff you don't really need? After bidding our friends a fond farewell and vowing to meet up again in the future, we trekked back across Britain to the west coast of Wales, where we took another ferry across the Irish Sea to Dublin.
The purpose of visiting Ireland for the month of December was to celebrate Christmas with friends Ed and Claire, their two sons and many members of their extended family. The year we spent in Israel taught us the importance of being with friends during the holidays when you can't be with your own family. We spent some time in Northern Ireland (back in the UK) and south of Dublin into Wexford and Wicklow Counties, taking in some of the natural beauty of the Emerald Isle. At this point a third US friend Tiffany was in Dublin for business and took time to show us some of the historical and pre-historical sites. We also had our first "official" house sitting gig where we took care of a wonderful black lab and two cats while their owners were out of town. Christmas came and went too fast and we had to say good bye yet again and boarded another ferry back across to England to continue the journey.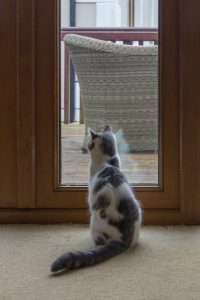 New Year's was spent back in London visiting Fara's "sisters" from her host family during a term abroad in college. One sister Natalie, her husband Alex and their two sons welcomed us into their home despite them being away for the first week we were there. The other sister Anna and her boyfriend Rory treated us to a delicious brunch and showed us around their neighborhood. It was a great opportunity to experience London like a local and be away from the buzz of the central city. We did get out and do a few touristy things, like visit Tate Modern, the Prime Meridian in Greenwich and Portobello Road Market, but we also utilized MeetUp to visit a local pub with fellow beer lovers.
Our final stop on the UK/Ireland portion of the trip was to go to Louth (rhymes with "mouth") and meet in real life another friend Fara had only known on Facebook. At this point, such seemingly random connections are a little less weird for me and we had a great week getting to know Bev and her husband John and explored the part of the UK they live in.
On a relatively (compared to the previous couple of months) warm mid-January evening, we boarded our fourth and final ferry from Hull to Zeebrugge, Belgium. The story will continue…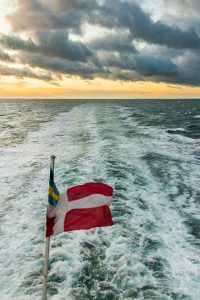 Post number 3 for 2018 is done! I'm now half way towards hitting my New Year's resolution of two posts a month for the first three months.