I am coming to you right now as I gush with excitement.  Don't worry I will explain. It will be a Fara "Bunny Trail" of a story though. So hang in there!
I just had a moment where I took the limits off of myself.  In the past, I have had problems with low self esteem and a lack of confidence.  Growing up under a magnifying glass and having every imperfection analyzed caused a huge spirit of fear to build within me.  Somewhere along the way I lost my can do attitude and the belief that I could do anything I set my mind to.
Before we started our journey, I learned how to knit with the help of many friends. Armed with my crochet and knitting needles, the plan was to travel the world and bond with others through yarn craft.  These activities would allow me to spend time with local people despite not speaking a common language. As many of you know, personal relationships is the core of my being.
So today as I was taking pictures of my almost finished knitting project.  I thought, "oh maybe I could go into town (Mortagua, Portugal) and find someone somewhere that could help me finish my first knitted clothing item." That thought was surrounded in a victim or I cant do it on my own attitude.  I gave it some thought,  almost asked Bob if we could drop what we were doing to go on a crusade into the village for me to get help, I really wanted to wear my own created tank-top to our goodbye dinner in Portugal.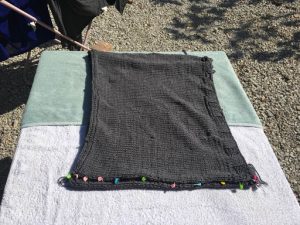 I joined a Facebook group devoted to ex-pats in Portugal over a year ago.  One of the members Michaella Brown stood out to me.  I told her that we would be traveling to Portugal in the future. Her vivaciousness for life and love for others spoke to me across the miles and I was determined I must meet this wonderful woman when I was in Portugal.
So when Bob and I were worn out from traveling too fast. I reached out to Michaella and asked her if her rental property was available mid-September.  She told me it was occupied but didn't stop there.  After discussing with her husband Marcus and giving some thought to it she gave me some alternative options that would be located in a village close to her.  She didn't let her spirit to help me stop with just her availability but she went out of her way to find us a place to stay and refresh our travel batteries. She also impressed upon me the desire to have me meet the American couple that was renting her property Rich and Brenda.  What? I can come to Portugal, meet this amazing woman and then also meet some fellow Americans.  Count me in!
We made arrangements!  Michaella, Marcus, Rich and Brenda took care of EVERYTHING for us.  When we arrived in Porto and our bags didn't we went and picked up our rental car with the clothes on our backs and drove approximately 2 hours to their village.  I say approximately because we did get lost along the way.  At which time, I called Michaella and she sent her amazing husband Marcus to retrieve us (I still wonder where we ended up because it was close but not close enough).  Then we followed him "home" to what I will always consider my Portugal home.  Brenda had cooked us a wonderful dinner and we got to meet what would be our family for the next month.  They opened their hearts, lives and houses to us.  As I contemplate leaving here in less than 48 hours.  I can guarantee that I will leave a part of my heart here with them (and the sun, just get rid of the damn flies for my next visit, PLEASE).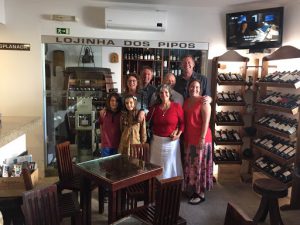 Ok back to knitting.. I swear.. it's a complex labyrinth in my brain.  I decided that who cares if what I did wasn't perfect.  I could make an attempt to stitch two rectangles and their flaws together into a top I could wear.  I didn't have to give up and limit myself.  Just like Michaella found a way for us to stay here by her, I found a way.  I sewed my knitting project together, and I will wear it tonight, proudly. It means so much to me.  I CAN DO ANYTHING!
Asking for help doesn't mean I am a victim but I need to reach out and try.  As my very wise husband told me the other day, he wants me to challenge things.  Not to just give up because its difficult or I don't know how.  He asked me how I have gotten this far in life.  I told him I often would throw my hands up when it got difficult.  He shook his head and said no you haven't, think again.  How did you get through school.  You have three degrees.  How did you do that.  I bet it didn't all come easy. I admitted to him that I was afraid to fail or make a mistake.  He encouraged me that everyone who is successful got there via mistakes or failures.
So I found that determined spirit in me and I finished my tank top.  I am holding my head higher than its been in a long time.  My heart is heavy in the thought of saying goodbye to my Mortagua crew.  But in my heart I know that there is plenty of room to take them with me, as I have for the friends and family that I have left behind with the launch of Can Do Latitude.  Watch out world!  Fara is stronger than ever. She is facing her fears with the determination to try. Who knows, maybe what scared me wont be that hard to overcome!