Previously on CanDoLatitude Travelogues, our intrepid travelers had boarded an overnight ferry from Hull, UK to Zeebrugge, Belgium. We now join them as they continue their adventure back in continental Europe…
Belgium
We started our first morning in Bruges the way everyone should, with a visit to one of the many waffle windows found throughout the city. What initially appeared to be an ingenious plan proved to be short sighted. First, a waffle window doesn't have chairs or tables to leisurely enjoy the meal and, more importantly because a slight mist was starting to fall, there is a distinct lack of cover. Our waffles were delicious, but had to be consumed while standing under whatever shelter could be found lest they get soggy. With breakfast out of the way, we headed to the main square to meet up with a free walking tour to hit the historic highlights of the city. While waiting for the tour group to form, the clouds opened and what was merely a mist started to look like proper rain. Despite the weather, our tour guide made the time very enjoyable and we even met a couple of fellow vacationing Portlanders. Fara tried to bail only once in search of a dry place to get a cup of tea and warm up. As reward for our physical exertion in the elements, we devoted the latter half of the day to exploring the food and drink Bruges had to offer. My favorite stop was De Halve Maan Brewery (The Half Moon in English). It has a very unique feature that placed it on my must see list. In 2016, the owner crowd-funded an actual beer pipeline under the cobble stoned streets to connect the brewery in the old city to a bottling plant over 3 kilometers away, reducing the number of heavy tanker trucks navigating the narrow streets. Patrons who helped fund the project at the top tier (€7,500) were rewarded with a bottle of beer every day for the rest of their lives. Wonder if any Portland brewery would be willing to try a similar kickstarter?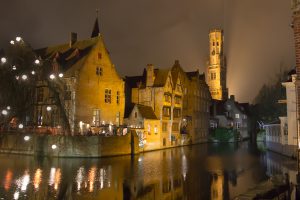 From Bruges we traveled 50 km down the motorway to Ghent. Why such a short move? While researching sights to see around the Bruges area, we came across photos of Gravensteen Castle and thought it looked pretty interesting. Rather than day trip it from Bruges or make it a quick stop in on the way to another location, we felt that it would be worth at least a day to explore the city. That is how the Grims roll when we don't have a set itinerary. We were rewarded with a quaint city having all the charm of Bruges with beautiful buildings and canals, but only a fraction of the tourists. Ironically, we never did go inside the castle that inspired our stay, but passed by from the water on a canal tour. Like Bruges, we opted to explore more of the gastronomic delights of Ghent. One find was the cuberdon, sold by multiple street vendors in the old city. I had no idea what Fara was getting us into when she purchased a bag of them to sample. They are cone shaped confections about an inch high, with a sugary hard shell and gooey, almost liquid center. The flavor is traditionally raspberry, but we also had some that were lemon, apple and licorice. The best way to describe it in familiar terms is a large jelly bean with a surprise inside.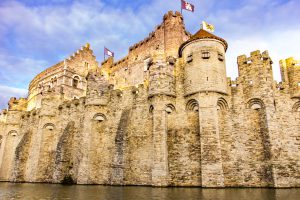 It was now time to head into France. Before saying goodbye to Belgium, I wanted to check out one of the Trappist monasteries that are so famous for their beer. I opted to visit Espace Chimay, primarily due to it being located about half way to our next Airbnb and a good place to break for lunch. In my research of the brewery, I didn't correctly decipher their off-season operating hours. We arrived to an almost empty parking lot and found that the bistro and any guided tour they offered was available only on the weekends (this was unfortunately a Tuesday). Disappointing, but at least their café was open and we could order a couple beers and pair them with cheese also produced by the monks. There is a museum on site, but we chose to just have our lunch and move on.
French wine country
Once in France, we set our sights on a small village in south west France near the Spanish border for our next house sit. We had about 10 days to get there and nearly endless possibilities of which way to go. So which path to take? As many of you know, wine is a bit of a passion of ours, and France has many well-known regions just waiting to be explored. We let our taste buds guide us and plotted a course through the Champagne (Épernay), Burgundy (Beaune) and Rhone (Aix-en-Provence) wine regions, traveling south through the eastern part of France before turning west to follow the Mediterranean coast towards the Pyrenees. We quickly realized that late January is not the ideal time to tour the French countryside expecting to drop in for tastings along the way. Many wineries and Champagne houses are closed for vacation after the busy holiday season. Our favorite find was Charles Mignon, a family run Champagne house in Épernay. The visit started with a tour of the production facilities and caves and finished with a Champagne and cake tasting, all hosted by the daughter of the owner.
I don't want to give the impression that we only drank our way through this part of France. There was much to learn about the food specialties of the regions as well. In Saint-Rémy-de-Provence we found multiple vendors in the weekly food market selling hand-made nougat using only honey, egg whites and nuts. Beaune is well known for its mustards and is home to Edmond Fallot Moutarderie, where you can sample about 20 different varieties of mustard (even American yellow). Our Airbnb hosts in Beaune were very welcoming and cooked us a traditional Burgundian dinner of Oeufs en Meurette (eggs in red wine sauce) our last night there. It was a dish so good, I need to add it to my repertoire of recipes.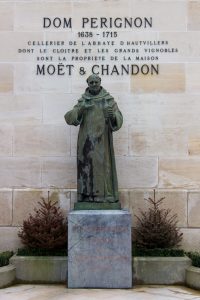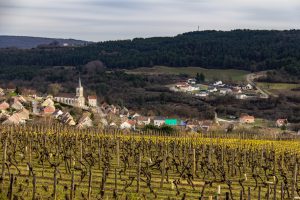 We did two memorable day trips while in Provence. Château des Baux is a medieval fortress perched on top of a mountain near Saint-Rémy. We spent several hours exploring the ruins of the keep and ramparts. On the grounds are working full-sized replicas of different siege engines (trébuchet, catapult and battering ram). In the summer, they even have demonstrations where they use the trébuchet to hurl rocks at a target several hundred yards away. Verdon Gorge in the Alps is France's version of the Grand Canyon with spectacular vistas overlooking the 2000+ foot deep canyon and brilliantly turquoise green river (giving the gorge its name). The roads through the gorge are narrow with many tight corners and surprisingly few guardrails, so not for the faint of heart, but well worth the trip.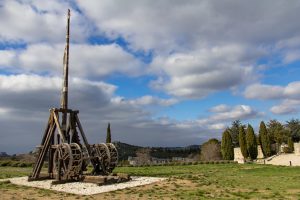 The house sit
The small farming community of Mazerolles was going to be our home for the next three weeks. We would be responsible for two dogs and two cats while our hosts were away. The town itself consists of little more than a community church and a salon de fete (community center), but no cafes or stores to speak of. Our morning walks with the dogs took us past a pig farm and through seemingly endless corn fields. Shopping or dining required a 10 km drive to Trie-sur-Baïse where we could find a supermarket, pharmacy, boulangeries, wine shop and cafes. Thursday was market day with many vendors selling fresh vegetables, meat, charcuterie and cheeses. Our hosts Nick and Melanie were British ex-pats who had been living in the south of France for the better part of twenty years. To make sure we didn't feel isolated, they took us to lunch on our first full day there to meet several fellow ex-pats living in the area. It was nice to have faces to put to the names on the contact list they left us in case we needed anything while they were gone.
The sit went off without a hitch and despite the unseasonably cold and rainy weather, we did get out and explore a bit of the surrounding area. We day tripped to Spain and had lunch in a ski town in the Pyrenees (can now technically check off Spain as a country visited), took a pilgrimage to Lourdes (but didn't partake of any of the healing waters), walked the walls of Carcassonne (surprise, no colorful wooden men running around) and soaked in the thermal baths of Balnea Spa (surrounded by the beautiful snowcapped Pyrenees). It was a beautiful part of the country that we must visit again when the weather is a little more hospitable. Our final night in Mazerolles, we were fortunate enough to take part in a very unique community event. They called it Carnaval de Mazerolles, so I assume that it has roots in Christian festivals before Lent (much like Carnival in Rio de Janeiro and Mardi Gras in New Orleans), but none of the locals could tell me for sure how it started. What makes their festival unique is that the party starts in the morning and the group of revelers travel en masse from house to house increasing in size and levels of inebriation along the way. We co-hosted one of the party stops at a nearby ex-pat neighbor's house and prepared snacks and beverages for the party goers. Sometime after 7 pm, 30-40 locals piled into the dining room and things got a little crazy. Some spoke passable English and with others we had to communicate via my broken French and a lot of gesturing. Fara and I were a hit since foreigners rarely ever attend the event. There was much singing and more than a little drinking. It capped off a wonderful stay in this remote corner of France.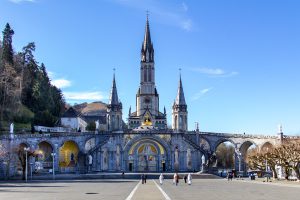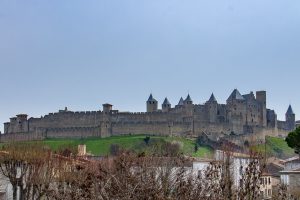 Back to Paris
With our time up in Mazerolles, we had to get ourselves back to Paris to return the car. On our return trip, we met the "Beast from the East" head on. A Siberian cold front settled on Europe, plunging the temperatures below freezing and blanketing many areas with fresh snow. Our first few days in Paris consisted primarily of taking care of necessities. Shopping, laundry and taking the car back to the airport took up most of our time and the weather was too cold and snowy to really want to go out and explore much anyway. Having been to Paris before on our honeymoon, we didn't feel compelled to go see the usual sights in central Paris. Instead, we spent a day checking out the Pairs flea markets and Marché Paul Bert antiques in Saint-Denis, then hunted down a couple of public art installations in Montmartre which took us past Sacré-Cœur. I also went on an epic hike from our apartment to the Canal de Saint-Denis admiring the street art adorning the bridges, walls and buildings along the footpath, eventually ending up at the Basilica of Saint Denis where all the royalty of France are buried. The highlight of our time in Paris was an opportunity to dine with a Parisian in her home using EatWith. The concept is a bit like Airbnb: hosts place an ad listing potential menus and prices, guests make a request giving a range of dates available, once accepted, guests show up at the hosts' home and share a meal with them. It is another way for us to connect to the local people and share cultures. This was the first time we had used the service and enjoyed a wonderful meal of French cheeses, charcuterie and wine with a side of interesting conversation.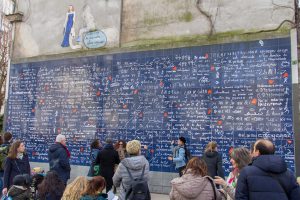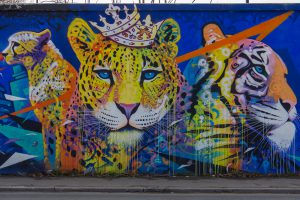 Alas, our time in Paris was limited as we needed to leave the Schengen zone for a while to reset our tourist visas and eventually make our way to Hungary for our next house sit. Now that we were again carless, we made our way to the Paris East train station (Gare de l'Est) and boarded a train to Munich where we would transfer to the overnight train to Zagreb, Croatia. I'll pick things up there once there's more to tell.